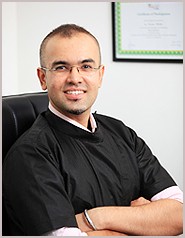 Dr. Priyank Mathur
Director & Chief Dental Surgeon
Cosmetic Dentist & Implantologist
B.D.S, Government Dental College, Mumbai
Fellow of the International Congress of Oral Implantologists
Fellowship in Implant & Aesthetic Dentistry, Nobel Biocare
Post Graduate Diploma in Laser Dentistry, IALD
"We owe it to ourselves to better know and look after our oral health as it is an asset we cannot do without"
Dr. Priyank Mathur says, "While technical and scientific challenges of being a dental surgeon keep me going professionally, its the 'humane' aspect of dentistry – the daily interaction with my patients – that I find most rewarding. Not a single moment of dullness, I am proud to have some of the most phobic patients as my friends today. I'd like to wipe out those unhappy childhood memories so many people associate dentists with and transform every dentist visit into a pleasant, enjoyable experience.
Dentistry is not just my profession, but my passion. I love what I do from start to finish, but definitely the most gratifying part of my dental surgery work is the beautiful smile at the end of the journey."
My Philosophy:
"With modern dental care, I focus on changing lives and helping people smile while keeping their teeth healthy for a lifetime. Improving the quality of life of my patients is a privilege that I truly value."
More about me and my hobbies:
"Having been brought up in South Bombay, I graduated in 2007 from Government Dental College (Bombay) and soon rose to set up my private practice the following year. With Smilekraft Dentistry, I hoped to provide an atmosphere of openness with attention to your comfort, but most of all great service. For close to a decade, we have consciously striven to cater to your individual needs and evolve with new technology so as to exceed your expectations.
The gadget freak in me is the reason behind the high-end technology you'll find at Smilekraft Dentistry. As a sport lover, I believe it takes immense passion, perseverance and persistence to bring one's 'A' game into play, and the same holds true for dentistry."