Dentures are removable appliances that can replace missing teeth and help restore your smile. Removable dentures are commonly thought of as an old age treatment, and before the advent of dental implants, were a very popular treatment option to get back lost teeth. Although, recent advances in dental technologies have made removable dentures less popular, they still hold an important position in restoring the smile and function in people with no teeth.
There are different types of dentures that can be made at Smilekraft Dentistry, which can be broadly classified into Complete Removable Dentures and Partial Removable Dentures.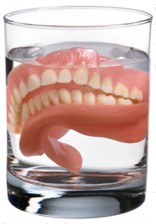 Complete Removable Dentures
Complete dentures or full dentures are plastic plates with teeth custom-made to fit each individual. It is made from pink acrylic simulating gum tissue and plastic or porcelain teeth, custom set for each patient. Complete dentures are made for edentulous patients (with no teeth). Apart from replacing teeth, they also improve appearance by mimicking gums with the pink acrylic and the overall facial height and width.
Sometimes, some of the teeth can be saved to preserve the jawbone and provide stability and support for the denture. Such kind of a denture is called an Over-denture. An over-denture is also a complete removable acrylic denture which apart from being supported by the soft tissues is also held in the mouth with the help of the remaining teeth, which are prepared in a manner to provide such a function. This extra support makes the over-denture a better form of a complete denture and is preferably done whenever possible.
Partial Removable Dentures
Partial dentures replace a few missing teeth. At Smilekraft Dentistry, they are made out of plastic or cast metal. The plastic partial dentures are mainly used as a temporary solution before permanent dentures treatment is completed. The cast metal partial dentures are an option of a more permanent removable treatment option for missing teeth. The use of the cast metal makes the denture more stable, thinner and stronger, thus giving better functionality than its plastic or acrylic counterpart. SmileKraft also offers flexible dentures treatment where the almost invisible with no metal clasps. Flexible dentures can be temporary or permanent replacement of a missing tooth.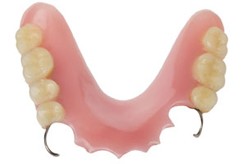 There are some reasons why we do not advocate their long term usage, such as
Removable dentures don't function like natural teeth and feel very awkward in the initial stages of use.

They do not prevent bone loss that sets in after teeth loss, thus making them loose with time requiring frequent adjustments.

If supported by remaining teeth, they exert undue forces on them, making them weak and eventually leading to their loss too.

They require higher maintenance efforts from the patients as compared to fixed teeth.

The chances of their breakage and patient losing them always exist.
But in situations, it is not possible for the patient to get fixed teeth and dentures become the only option to get back aesthetics and function, such as:
If the age and overall health of the patient prevents him from going through any surgical procedure.

Time and finances don't allow the patient to get the best available treatment.
Although financial constraints prevent many people from availing better treatment modalities as compared to removable dentures, we, on our part try to negate these constraints as much as possible by providing a host of discounts to senior citizens and flexible payment options for high-end treatments.