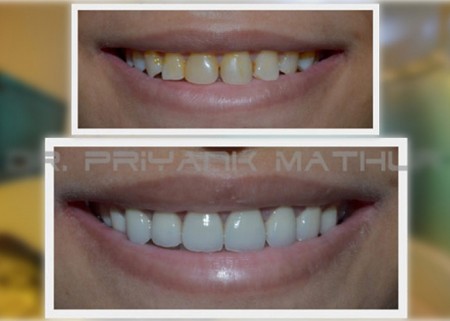 Shruti is a petite girl who again was rightly concerned about the appearance of her teeth and was looking forward for a complete smile and functional rejuvenation. Many a times it's the maintenance of teeth which determine their health and appearance but in Shruti's case it was just that the formation of teeth was not up to the mark which led to their discolouration and multiple decay lesions. Coupled with her habit of grinding teeth she could foresee an early collapse of her oral structures and thus her smile.
We began her treatment by making her teeth infection free with the use of root canal treatment for 12 teeth and performing a general cleaning for the rest. Next, we whitened the remaining teeth which were structurally unaffected with disease but were yellow in shade. This was followed by the final restorations on all the affected teeth, with full coverage 3M LAVA crowns on 12 teeth.
Such a case can be completed in as early as 2 weeks, but it took us around 6 weeks to finalise the result due to some technical delays with our laboratory work. But her smile in the end, made the wait worthwhile.
We would also like to mention and highly appreciate the fact that Shruti was only 23 when she got her treatment done taking care of all the finances herself which is highly commendable for a person of her age