Dental Clinic/Dentist in

 

Baner
Monday – Saturday
10:30AM – 6:00PM
Dentist and dental clinic near Baner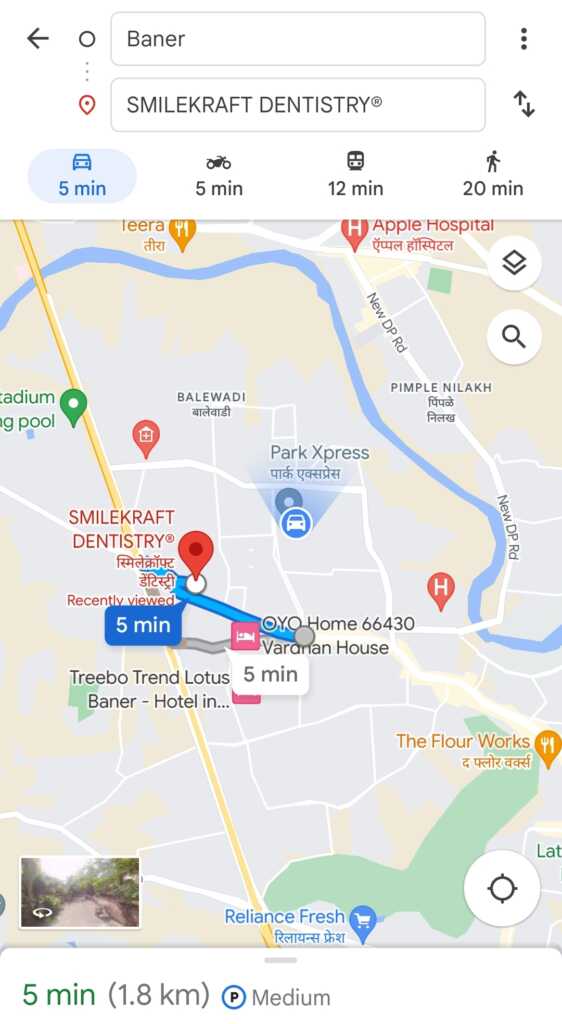 Looking for a dental clinic or a dentist in or near Baner? Welcome to Smilekraft Dentistry, your preferred high-end dental clinic serving patients from and around Baner since 2008. Our clinic is conveniently located in Baner near the Mumbai Bangalore highway junction of Baner road opposite Sadanand hotel and is at a walking distance from Balewadi High Street. It is in a row house in Lane 1 across Laxman Nagar road which is beside Westside and behind DMart on Baner road.
If you have to reach us from anywhere between Baner road to Smilekraft Dentistry, or anywhere further in Baner in areas beyond Veerbhadra Nagar and Pan Card club road in Baner gaon, Hotel Green Park, Balewadi Phata or around Baner Pashan link road, it would be best to reach us by means of some transport, personal or public as per your preference.
How can Smilekraft Dentistry help you?
With the various top-notch dental services and technologies offered at Smilekraft Dentistry in Baner, our Chief cosmetic dentist & implantologist, Dr. Priyank Mathur can help you smile better, eat whatever you desire and get rid of any pain or oral discomfort that you may have. He has been doing that passionately since 2007, when he graduated from the Government Dental College in Mumbai and got into the service of private dental practice in Pimple Saudagar near Baner in 2008.
If you are further interested in knowing more about dental treatments technically, then please check the various treatment offerings/ services that we provide in the "Our Forte" section of the website.
If you want to know the details of the technologies and infrastructure we use, please check the section "Infrastructure & Technology".
To read about the safety measures at our clinic, please visit "Safety & Quality Assurance".
But how to decide/believe if Smilekraft Dentistry is the best dental clinic in Baner or Dr. Priyank Mathur is the best dentist in Baner?
Well, the only genuine and proper way is to personally experience each dental practice in Baner and compare with Smilekraft Dentistry. Since this is not a practical approach, the easiest way with which we can help you is to showcase our work results. We believe that the true nature of anything is not in its packaging or credentials but in its user experience and functioning. This same principle is what we apply in dentistry.
Even with our high credentials, comforting ambience, superior technology and positive reviews across various platforms, we will always only insist our prospective patients to judge us based on the treatment results we have consistently achieved for our patients over the years.
Everything can be faked or bought! Be it a high-end space, latest technologies, latest degrees, awards, online reviews and even positive video feedback. Some harsh words but true.
The only thing that cannot be bought are genuine consistent treatment results. They are the true image of any practice if seen through a microscope.
But how would you believe if those images are true? Images can be bought and downloaded as well.
The best way to know their truth would be to visit the dental clinic in Baner and see all the actual and full case pictures on the clinic hard drive. Every dental clinic in Baner doing amazing work would always have a full stock of all their treatment result offerings. If that's not practically possible for you, then acknowledge the consistency of imaging that is seen across cases presented on the website which can only be through a single lens being operated by an individual. You can compare those with most of the other websites displaying stock images from the internet, which will never have consistent imaging.
So, ready to reach the best dental clinic in Baner and meet the best dentist in Baner? Please call or message us at +91 8459647556 to book an appointment. If you prefer talking to a doctor before scheduling an appointment, ask for Dr. Harshada Borse on the same number.
If you want to speak to Dr. Priyank before visiting Smilekraft Dentistry, then please contact him on +91 9970192595.
We hope to be of service for all your and your family's dental needs.
GENERAL ENQURIES
Smilekraft Dentistry, Row House No. B 5, Gulmohar Residency, Lane 1 across Laxman Nagar road, beside Karnataka Bank, behind D Mart Baner road, Baner, Pune-411045, Maharashtra, India.
OFFICE HOURS
Monday – Saturday
10:30 AM – 6:00 PM
Find a dental clinic or dentist near you on google maps.
P.S. – Please read the candid disclaimer by the dentist at the end of the page about being the "best dentist in Baner" and having the "best dental clinic in Baner".
Before visiting any dental clinic in Baner, please check the updates regarding COVID19 by the Government of India.
COVID Updates of Pune District
We are thrilled to announce the grand unveiling [...]
Why Biohorizons Dental Implants are the best for people [...]