Taking our commitment towards providing the latest and best possible dental treatment solutions to our patients, Smilekraft Dentistry, your digital dental clinic in Pune takes a step further in digital dentistry and introduces the 3 Shape Trios intraoral scanner for the convenience and betterment of its patients.
You would be wondering, "What is this digital dentistry or what are digital dental clinics?". Let us answer this.
We've been using the computers since the time they've been available to maintain patient records, take intra-oral pictures and digital xrays which has helped us and our patients immensely as compared to the earlier age of paper records, photo prints and xray films. With the digitization we were able to know our patients better, diagnose their issues faster and more confidently and help them understand and go through the treatments smoothly. All these technologies sum up to what we call as digital dentistry and makes Smilekraft Dentistry one of a pioneer digital dental clinic in Pune.
But for years, there was one thing that remained constant in being physical/analog (apart from few improved materials) was the dental impression or teeth/jaw measurement as you would put it. These measurements are one of the most important parts of dentistry which are necessary for us to make your artificial teeth, plan your treatment and understand the before and after situation of a treatment. They were the standard of care till a few years back, but with few disadvantages.
Disadvantages of conventional impressions or physical/analog impressions:
Slightly time consuming
Technique sensitive thus higher chances of inaccuracies
Changes dimension with time
Needs to be specially disinfected and transported which takes time and may create inaccuracies
Discomforting to patients in the form of gag reflexes, undesirable smell and a weird feeling of biting or holding something gooey in the mouth for about 5 mins
Not repairable
Can not be stored for long
Produces waste thus affecting the environment
All these were challenges that the dentist, the patient and the laboratory had to overcome to be able to produce a high quality treatment outcome. Although we did, but with those earlier standards. 'The improved potential is realised when you do or use something better'. An that's what we realised when we first put our hand to this magical wand called the '3Shape intra oral scanner' that produced these amazing digital impressions or measurements of the teeth and jaws.
So, "What is a digital impression?"
Digital impressions are 3D pictures or models displayed on a screen which are produced by a software that uses a 'wand' like device that captures data of the teeth and jaws, much like a camera which measures light reflection times in the form of videos or continuous burst images.
These digital impressions can then be used to diagnose dental issues, plan treatment and predict results digitally and produce models and prosthesis using 3D printers.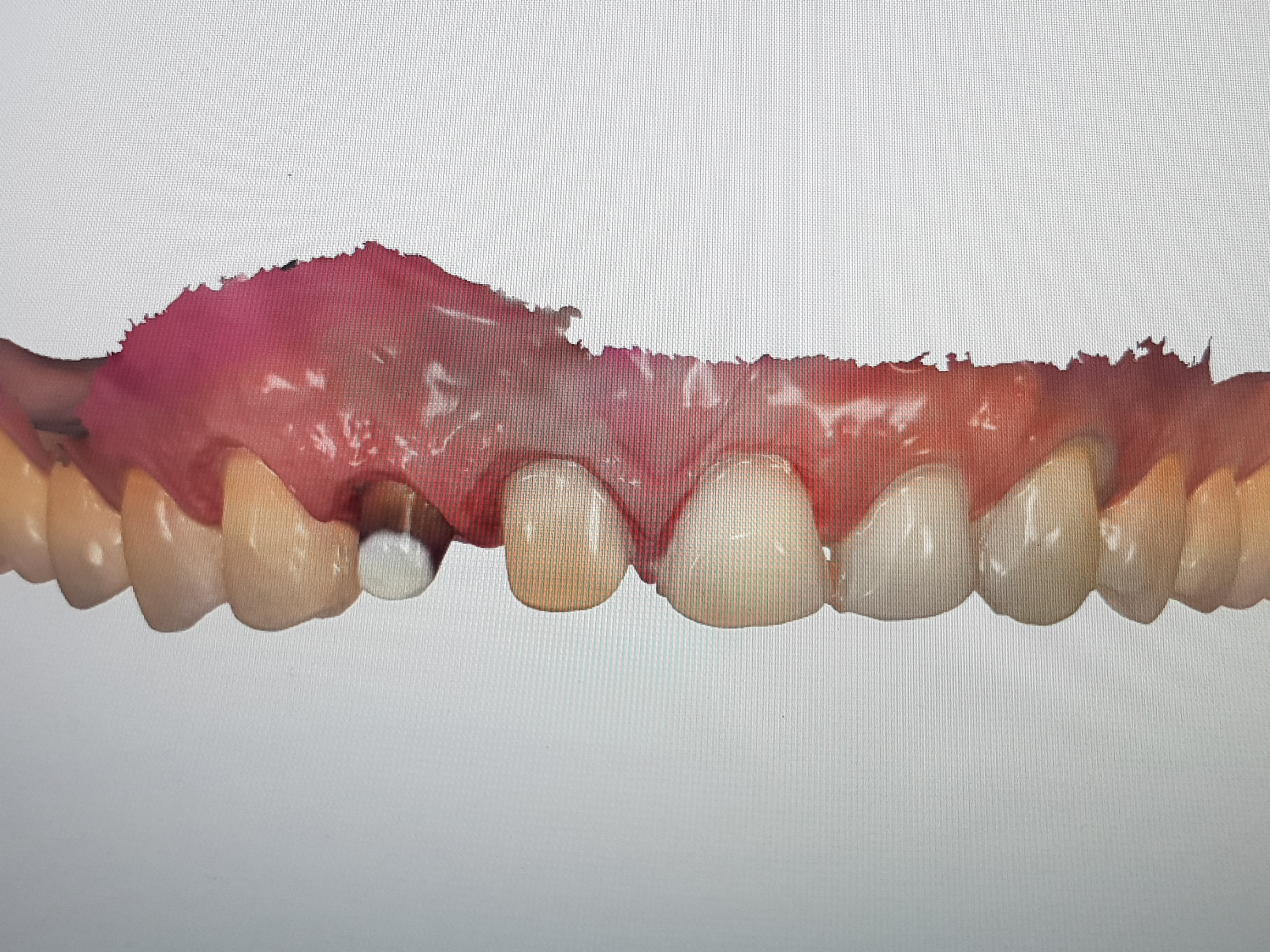 Advantages of Digital Impressions:
Less time consuming
Easier to master thus producing better results faster
Better production of details of the teeth and gums
Can be repaired/restitched thus avoids repeat of impressions and in turn saves time and patient discomfort
Easier for the patients with least discomfort of gag reflexes, excessive salivation, etc.
Are available forever on cloud thus no need for physical storage space
No issue of losing accuracy with time
No waste produced thus being clean for the environment
See actual case pictures of a smile designing makeover process done using digital dentistry.
More than the advantages that we feel about this digital technology, our patients love it most.
Common feedback that we have received from our patients are:
"We don't like biting down on that gooey stuff. It sticks to our teeth and causes discomfort and a gag reflex. The digital impression takes that all away."
"It just feels like taking a picture. No discomfort. And we love to see our teeth on the big screen. It's amazing."
"No pain, no mess. Quicker appointments with better fitting crowns/caps. Everything feels and looks better. I feel I'm in the right place."
Though with all these benefits there is one disadvantage as well. And that being the cost. Digital dental impression technology in Pune is pretty expensive as compared to the conventional impressions. (approximately 200 times)
But at Smilekraft Dentistry, your digital dental clinic in Pune, we don't let that create a hindrance to our resolve to provide the best to our patients at reasonable costs. Thus, we don't charge our patients anything extra for the use of this technology over the previous conventional impressions.
Let's just put it this way, "We can't put a price on becoming a better dentist. It's something that every dentist should do regardless of financial costs. You can't put an amount on that. If it's the right thing to do, we just do it."