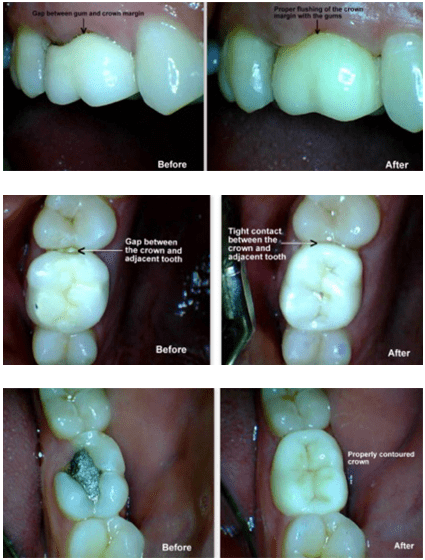 Using the age-old casting method wherein metal, porcelain or ceramic was moulded into a crown, the process of getting a customised dental crown was a lengthy two-week exercise, which more often than not resulted in an ill fitted crown. The days of tedious, manual production of crowns and bridges are fast disappearing. Smilekraft Dentistry uses the latest CAD/CAM technology that boasts of digital imaging and a computer-guided milling machine to make beautiful, natural-looking dental crowns.
The CAD/CAM technology offers a high-level of precision resulting in better-fitting crowns than those created by hand at regular dental labs. The machine creates a 3-D model of your mouth guiding the creation of your customized restoration, which is then milled from a block of high-grade porcelain. Patient satisfaction increases not just because of the short duration you would have to spend on the dentist's chair, but Dr, Priyank will also have total control of the look and fit of your crown.
In addition, this process eliminates the need for unnecessary reduction of healthy tooth structure and is known to produce highly durable results.The accurate shape of the crown avoids any gaps between the gum line as well as surrounding teeth. These gaps, if present, may result in the deterioration of your teeth due to accumulation of food. The images below showcase the improved difference between hand crafted and digitally milled crowns with the help of CAD/CAM technology.
Thanks to the advancement in technology, Smilekraft Dentistry uses this procedure in order to provide you with high-quality durable crowns in almost no time. Respecting your busy, active lifestyle and time – you can schedule an appointment with Dr. Priyank to craft your restorations.