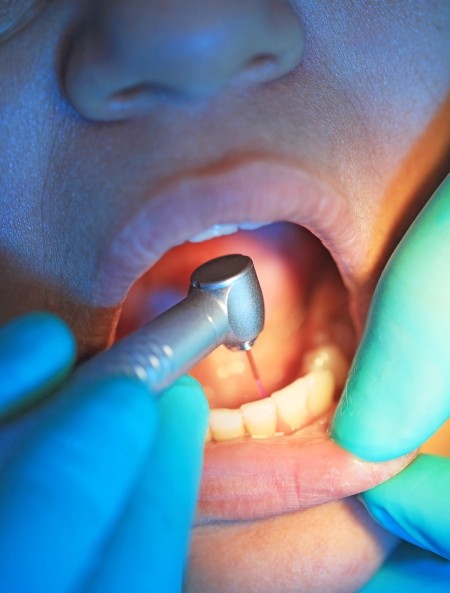 Progress in technology has led to a number of advances in the field of dental care. The greatest benefit of technology is heightened patient care and comfort. Smilekraft Dentistry is proud to provide patients with a high standard of care in which laser dental equipment is used. The Waterlase Laser is one of the most advanced instruments used by dental practitioners which combines energy with water, resulting in a unique wavelength that can
cut both hard and soft surfaces such as teeth and gum tissue. Using the Waterlase Laser allows Smilekraft to serve even the youngest and most anxious patients in a more pleasant manner. Dr. Priyank lists some of the many benefits of this technology.
Patient Comfort
The Waterlase Laser is gentle and efficient, therefore eliminating the need of local anaesthesia in most cases. Likewise, the unpleasant tingling and numb sensation post anaesthesia can be completely avoided.

Move away from the dental drill
The laser is relatively quiet as compared to the dental drill whose sound patients find agitating. In fact, fear of the drill is one of the top reasons that patients avoid going to the dentist in the first place, or else delay return visits.

Greater precision, shorter healing time
Use of the laser means greater precision, allowing for more accurate work and increased professional satisfaction. A dentist can repair tooth damage while preserving the greatest amount of natural tooth structure, followed by shorter healing time, a possibility of no stitches and lesser swelling.

Lesser time on the dentist's chair
The number of visits to the dentist is drastically reduced. Since there is no anaesthesia required, the dentist can perform a multitude of procedures in fewer visits. With the Waterlase Laser, Dr. Priyank at Smilekraft Dentistry strives to provide the highest quality of care tailored to each patient's needs.